PFT SYSTEMS POCKET SPIRO
The Pocket-Spiro® is a  high precision spirometer and pressure meter that plugs directly into your computer's USB port. It can be upgraded with many options like: MIP/MEP, Sniff, Rocc, Rhinomanometry, compliance, etc..
Enhenced Spirometry software.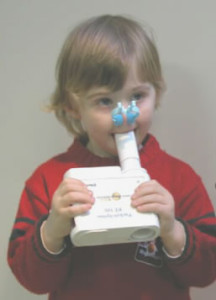 The PDI spirometry software allows you to perform in real time a complete spirometry with: PRE-POST bronchodilatator comparison Bronchial challenge test with FEV1 ( and Rocc *) dose-response curve.
Spirometry interpretation assistance with quality control and lung age estimation. The software includes also a series of pediatric incentive animations.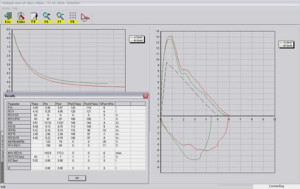 Forced spirometry with flow-volume curves and associated times-volume curves and determination of :
FEV0.75, FEV1, FEV3, FEV6, FVC, PEF, FEV0.75/VC, FEV0.75/FVC, FEV1/VC, FEV1/FVC, FEV3/VC, FEV3/FVC, FEV0.75/FEV6, FEV1/FEV6, MEF75, MEF50, MEF25, MEF25-75, FEF50/VC, FEF50FVC, FET, IC, FIV1, FIVC, PIF, FIV1/FIVC, FIF25, FIF50, FIF75, FIF50/MEF50 etc..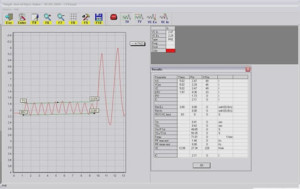 Slow spirometry:
Vital Capacity (VC), IN and Expiratory Reserve Volume (IRV, ERV), Inspiratory Capacity (IC) and Tidal Volume (VT)., Inspiratory Time (Ti), Total Time , (Ttot),Ti/Ttot etc…
User friendly and easy Report Designer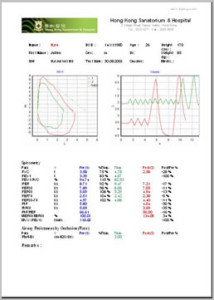 As far as report documentation is concerned, you will be supported by the new MEC PFT Report Server program, which provides you several handy report tools on the basis on which you can clearly structure and tailor each reporting to your individual needs and integrate your headings and hospital or practice logos.  MEC PFT report can be evaluated on screen before printed on paper and/or forwarded by email. The reports may be designed directly in Microsoft Word and saved as Word documents or as Acrobat PDF format. Of course the results may be exported to medical files (HIS) with protocols like XML, TXT, HL7 etc..